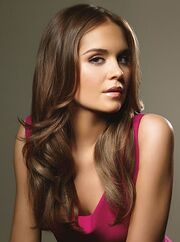 Britney Destiny Hamlin was born on November 18, 2014 in Chesterfield, Virginia weighing at 7lbs 1oz. She is the daughter of
Kyra Ford
and NASCAR Sprint Cup driver Denny Hamlin. She is the niece of
Serena Hamlin
, Brad Keselowski, Brian Keselowski,
Summer Keselowskiand
Trevor Bayne. She is the cousin of
Kelsey Keselowski
and the adoptive cousin of
Trinity Bayne

While growing up, she was basically being a ping pong ball between Kyra
Britney Destiny Hamlin

Born

November 18, 2014 (17)

Hometown

Chesterfield, Virginia

Parent(s)

Kyra Ford (mother) Denny Hamlin (father)

Family Member(s)

Serena Hamlin (aunt) Brad Keselowski (uncle) Brian Keselowski (uncle) Summer Keselowski (aunt) Trevor Bayne (uncle) Kelsey Keselowski (cousin) Trinity Bayne (adoptive cousin)
and Denny because during the NASCAR season, she was with Kyra and didn't get a good chance to see her father only if it was an off week, but, once the summer rolled around, she was hanging with her father, then the whole cycle would basically go on over and over and over until she'd turned 18, which then she then decided to hang with her father more because it was because of her father, that's where she got her interest in racing. When she's not with Denny, she's over in Virginia and racing at the local short tracks, where Denny used to race before moving up to the NASCAR level, and she'd won about thirty five races and two championships. That's where she got the call from NASCAR, or more specifically from Tia Gibbs saying that she would get a try-out run in a Nationwide race, and if she does good, she would get that ride for the rest of the season, and she'd picked the July race at Daytona, Britney qualified 20th, and actually won the race, so she got the Toyota ride for the rest of the Nationwide Series season, where she rolled off three more wins and four poles.
She ran a total full season in the Nationwide Series with the Toyota ride that Tia Gibbs have given her and she pulled out nine wins, seven poles and fifteen top 10 finishes, and that's where she got into the Sprint Cup Series where she is driving her father's #11 FedEx Toyota Camry, won three races, just barely making into the Chase and finished 4th in the points standings at the end of the season.
Britney's Twitter account is @FedExNut11. She uses it to talk to her friends and fans of NASCAR.