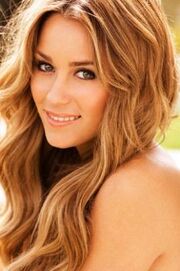 Jasmine Alexandra Johnson was born on July 7, 2010 in Concord, North Carolina weighing at 8lbs 7oz. She is the daughter of Chandra Johnson and NASCAR Sprint Cup driver Jimmie Johnson. She is the niece of Madison Johnson, NASCAR Sprint Cup driver Jamie McMurray and
Carmen McMurray
. She is the twin sister of Genevieve Johnson and the cousin of
Jennifer McMurray
.

When Jasmine was growing up, Jasmine was sad that she couldn't see her father because he was always on the road, and she would always count down the days till she would see him for if it was only an off week, or counting down the days till the last race of the current NASCAR season so that she would spend the holidays with her father.
Jasmine Alexandra Johnson

Born

July 7, 2010 (age 21)

Hometown

Concord, North Carolina

Parent(s):

Chandra Johnson (mother) Jimmie Johnson (father)

Family Member(s)

Madison Johnson (aunt) Jamie McMurray (uncle) Carmen McMurray (aunt) Jennfer McMurray (cousin)
When she was seven years old, she got a great interest in racing when she was taken to a go-kart track in North Carolina and she dominated the race that she was put in...and she even lapped some of the go-karts in the race. She raced about twenty more go-kart races, winning seven of those races and ended up winning the championship at the end of the whole thing. Two more years of racing go-karts, she was moved up to racing quarter midgets, where she won a total of 23 races and a championship. She moved up to late models a year later and won ten races and came second in the points standings that she was in.
She moved up to the Nationwide Series a tad big quick by her standards, and she quickly dominated, winning seven races and the championship, making her the first rookie to do so. After that season, she was brought up to the Sprint Cup Series and was driving for Heather Hendrick and had won five races during the regular season, made the Chase, won three races during the Chase, and somehow managed to win the Championship. She made the Chase for the next three years and, she'd won the Championship for those three years, and is trying to beat her father's record of winning five straight Champions.
Jasmine's Twitter account is @Mini48. She uses it to posts photos of herself and talks to her friends and fans of NASCAR.